General Information
News


About us
Calendar



Become a Member!
Contact us
Our Astronomy Library
Newsletter. Bolidul <!-img src="../foto/diverse/new.jpg">
Light Pollution in Romania<!-img src="../foto/diverse/new.jpg">
Astronomy in Bucharest and Romania

---
Members' Activities
Astrophotography
Moon and Planets<!-img src="../foto/diverse/new.jpg">
Sun<!-img src="../foto/diverse/new.jpg">
Eclipses
Deep Sky
Atmospherical Phenomena

Visual Observing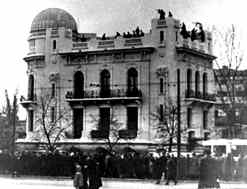 "Admiral Vasile Urseanu" Observatory in Bucharest, Romania
on the day of the February 15, 1961 total Solar Eclipse
---
---
The Bucharest Astroclub has its Headquaters in the "Admiral Vasile Urseanu" Astronomical Observatory, the only public observatory in Bucharest, Romania.
The Observatory is only 5 minutes walking distance from Piata Romana -large plaza in the middle of Bucharest- and is open to the general public every clear night during the week. The Observatory hours are from dusk to 10:00 PM, regardless of the season of the year.

The members of the Bucharest Astroclub meet at the Headquarters every Tuesday evening, with the meeting starting at 7PM and ending at 10PM, but the hours are very aproximate. For futher details, see the "Calendar"
The public can observe the Moon and the Planets and some other bright celestial sights using the observatory instruments. Unfortunatelly, because of the brightness of the city night sky, fainter objects are rendered virtually invisible, even through the telescope.

The illumination of the night sky is due mainly to the faulty design of the city streetlights, which waste an important fraction of their light on upward and horizontal spill. This light is wasted on illuminationg the bird and airlane bellies, the clouds and eventually the sky... This is called light pollution and has more to do with the way streetlights are desingned and/or deployed than is has to to with the atmospheric pollution. Even with a perfectly clear astmosphere, the sky would still be bright...